Sanding a door frame or trim can be a difficult task, especially if the door is still mounted. Sanding a mounted door can be tricky, and requires great finishing skills as well as the right tool – a door sander.
There are several door sander brands out there to choose from. But why should you waste your precious time browsing through extensive sander options for the right product?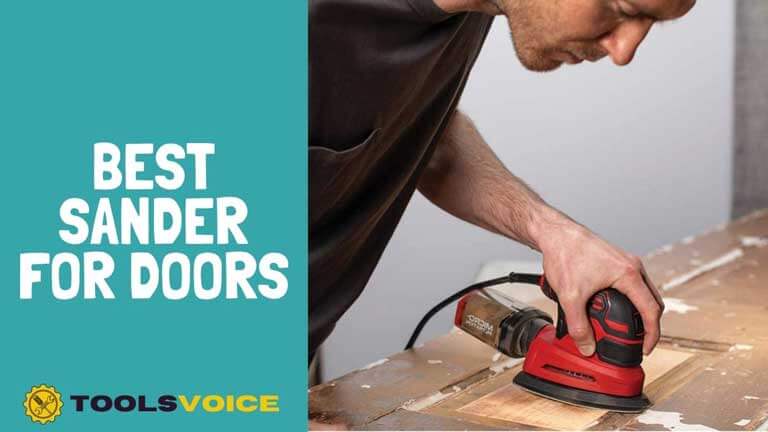 To save you time and costs, let's take a look at the best sanders for doors that you can choose from. Let's go.
Best Sander for Doors Reviews
1. Makita BO5030K 5in. Door Sander
This is a very powerful random orbit sander from Makita, perfect for both home and workshop use. Its simple body and compact size make this sander user-friendly and easy to use. It uses easy-to-change 5in. eight-hole hook-and-loop abrasive disc.
You can use this high-quality Makita BO5030K to sand and finish all kinds of wooden doors and windows, make panel ornaments, and handle intricate details.
The ergonomic rubberized grip and unique pad control system give you complete control, even at higher speeds, for a perfect finish. They also ensure the continued use of this sander without getting tired.
When it comes to smooth and superfast door sanding, this 5in. Makita sander is very speedy, thanks to its powerful 3Amps motor that delivers 12,000 revolutions per minute (RPM).
Unlike most other sanders on the market, the Makita BO5030K is more user-friendly and very comfortable in hand – it's well-balanced, it doesn't vibrate so much, and it's less noisy.
For smoother sanding and longevity, this sander is precisely designed with all ball-bearing construction. The power switch is sealed to prevent dust and increase durability. There is also an effective dust collection system to give you a clean work environment.
You'll get a toolbox, an abrasive disc, and a dust bag when you purchase this tool. The Makita BO5030K is ideal for a wide range of sanding applications.
Benefits:
It features a 3Amp motor (12,000 RPM) for smooth and superfast sanding
It has better bearings than other random orbit sanders
It has an efficient dust-collection system that collects most of the dust
The rubberized grip offers comfort and better control for users
It comes with an abrasive disc and dust bag
It is very easy to operate
Drawbacks:
The toggle switch may be hard to operate
Check Price on Amazon
2. DEWALT Cordless Sander for Door Frames – Best Sander for Door Frames
You can easily use the Dewalt DCW210B for sanding door frames because it is lightweight (1.6lbs.) and easy to handle. Not only that. It is also very affordable and includes amazing features available in high-end sanders.
Just like other Dewalt sanders, this model comes with a super motor, capable of delivering from 8,000 to 12,000 RPM. Isn't that amazing from a 20V battery-powered sander? The 20V Lithium battery and charger are sold separately.
For long-lasting durability, this sander comes with a dust-sealed power switch and dust port that can be fitted to a dust bag (included), dust collector (not included), or to a vacuum system.
You'll definitely enjoy a comfortable and stress-free experience with this reliable product. This is because of its accuracy, great precision due to low-profile height, amazing ergonomics, rubberized grip, and reduced vibration.
Benefits:
It features a dust port to attach to Dewalt dust collectors or a vacuum system;
It has low vibration
It is dust-sealed for durability and longevity
It features a brushless and featherless motor
It is lightweight and portable
Drawbacks:
It requires a universal quick connector to connect to a vacuum system
It can be a bit noisy
Check Price on Amazon
3. Festool 574993 Random Orbital Sander
Here is another great one-handed random orbit sander for both beginners and professionals. Festool understands that the same speed can't be applied to all sanding work, that's why the Festool 574993 sander gives users control over speed.
This sander comes with stepless adjustable speed, where you can adjust the motor speed to suit your need or application. The Festool 574993 has a lightweight and compact body that aids easy handling and use.
It also uses a 5in. disc to deliver an excellent finish. More so, you don't have to worry about a dirty workspace with this tool because of its efficient dust-collecting systems. We also love the interchangeable sanding pad and anti-vibration feature.
Aside from sanding wooden doors and windows, you can also use the Festool 574993 for sanding any other suitable woodworks – thanks to its super-fine stroke and incredible potency. This orbit sander is highly recommended.
Benefits:
It is lightweight, compact and easy to handle
It features an efficient dust removal system
It comes with an ergonomic design
It features stepless variable speed for variable use
It has low vibration, which makes users comfortable
Drawbacks:
This sander is a bit pricier
Check Price on Amazon
4.  SKIL SR232301 Multi-Function Cabinet Door Sander
This sander made it to our list because of its amazingly powerful motor and multi-function feature. The featured 1.2Amp motor delivers a speed of 13,500 RPM, which is enough to either sand off scratches or paint from your old wooden door or prepare your new door for priming and painting.
This is also a versatile sander. Being a 4-in-1 detail sander, the SKIL SR232301 features three extra easy-to-change attachments for detailing woodwork, such as finishing large surfaces, edges, corners, or any surface contour.
To ensure that you have smooth and clean woodwork, this sander comes with a micro-filtration system and a dust port to attach to a vacuum. The rubberized grip and ergonomic design both increase users' comfort and lower vibration. This tool is smart for sanding different door materials.
Benefits:
It comes with a compact size and ergonomic design
It features a powerful 1.2Amp motor
It features a dust-sealed power switch
It features a micro-filtration system and dust port
It features a hook-and-loop system to easily and quickly change sanding sheets
Drawbacks:
It doesn't have an alternate handle
The sanding pads are so large that you can't use generic ones
Check Price on Amazon
5. Bosch ROS20VSC Variable Speed Palm Sander
If you're looking for a high-quality palm sander at an affordable rate, then look no further because the Bosch ROS20VSC is the best deal. It strikes an amazing deal between affordability and quality.
With a 2.5Amp powerful motor operating at 7,500 to 12,000 RPM, you should expect an amazing performance from this tool. It also features a variable speed control that enables you to adjust the motor speed to suit the task.
This sander is lightweight, well-built, has an excellent dust-collection system, and features a hook-and-loop disc attachment system. It comes with a carrying case, vacuum adapter, dust canister, dampening ring, sanding disc, and sanding pad. It also works well on either a flat or contoured surface.
In terms of affordability and quality, the Bosch ROS20VSC is one of the best for sanding doors.
Benefits:
It is affordable
It features various speed controls
Disc removal/attachment is easy
It comes in a complete package
It delivers a professional performance
Drawbacks:
It's a bit heavy for prolonged vertical use
Check Price on Amazon
6. DEWALT 1/4 Sheet Sander for Doors
Here is another sander from Dewalt. However, this is an electric sheet sander with more power for greater performance. The DEWALT DWE6411K has a 2.3Amp super motor sanding at 14,000 RPM. This gives you a faster door sanding process. The shorter design gets you closer to your door surface.
A comfortable control is necessary for smooth and precise sanding, that's why this sander comes with a palm-size rubberized grip. It also has low vibration – thanks to the counterweight. To give you a flatter sanding plane, the DEWALT DWE6411K comes with a foam pad.
Other amazing features include the locking dust bag, the locking dust port system for the vacuum hose, and the improved paper clamp for holding the sandpaper better.
Benefits:
It has a low vibration
It comes with a compact size and ergonomic design
It features a powerful 2.3Amp motor with 14,000 RPM
It comes with a shorter design for closer contact to the woodwork
It features a locking dust bag and locking dust port system
Drawbacks:
The locking system is not strong enough. The dust bag may fall during vertical sanding.
Check Price on Amazon
7. BLACK+DECKER MOUSE Sander for Woodworking
This is the last sander on our list but not the least in performance. In fact, the BLACK+DECKER MOUSE BDEMS600 prides itself as one of the best and most powerful sanders for doors. Its 1.2Amp motor provides 16,000 RPM. What an impressive performance in door sanding from a "mouse" sander.
It even enables you to sand tight corners or cramped spaces due to its "detail finger" attachment and ultra-compact design. Its lightweight nature, adjustability, and three-grip positions give you better control over the tool and more comfort when sanding.
It is nicely built, compact, and easy to use. It features an interchangeable sanding system, a dust collector, and a hook-and-loop system to easily and quickly change sanding sheets. If you want a sander with an excellent grip and on-point precision, the BLACK+DECKER MOUSE BDEMS600 is your best choice.
Benefits:
It is dense but compact and lightweight
It offers great value for your money
It offers a highly comfortable grip
It features a hook-and-loop system to easily and quickly change sanding sheets
It can sand hard-to-reach areas
Drawbacks:
It is built with a plastic material, which makes it a bit loose in structure
Check Price on Amazon
How to Choose the Best Sander for Doors?
If you are looking to buy the best door sander, there are a few factors you need to consider.
In this section, we will discuss each of these factors in detail and help you choose the best sander for your needs!
Corded vs Cordless
The first factor you need to consider is whether you want a corded or cordless sander.
Corded sanders are usually cheaper and will provide more power than their cordless counterparts.
However, they can be difficult to maneuver and require access to an outlet.
Cordless sanders are more expensive but offer the advantage of being more portable.
Keep in mind that you will need to purchase batteries separately in most cases. When batteries come with the sander, you'll still need to buy batteries if you want to do the work continuously.
Power (RPM)
The next factor you need to consider is the power of the sander. This is typically measured in RPM (revolutions per minute).
The higher the RPM, the faster the sander will remove material.
However, too high of an RPM can cause damage to your door.
Choose a sander with an adjustable speed setting so that you can control the amount of power it produces.
Orbital Size
Another factor to consider is orbital size. Orbital sanders come in two sizes: random orbit and palm grip.
Random orbit sanders are larger and more powerful but can be difficult to maneuver around tight corners.
Palm grip sanders are smaller and easier to handle but don't remove the material as quickly.
Choose the size that best suits your needs.
Lightweight
You'll want to consider the weight of the sander. A heavier sander will be more difficult to maneuver but will remove material more quickly.
A lighter sander will be easier to handle but won't remove the material as quickly.
Choose the weight that best suits your needs and application.
Heavyweight machines are not good for long-term use as they can fatigue out your arms pretty quickly hampering productivity.
Dust Management
An important factor you need to consider is dust management. Some sanders come with a dust bag to collect the debris as you work.
Others have a built-in vacuum system that will remove the debris as you work.
Don't get a product without a dust management system. Sanders will make a lot of dust that you won't want to deal with after each work session.
Ease of Use
Finally, you need to consider the ease of use of the sander. Some sanders are more user-friendly than others.
Look for a sander with an ergonomic design that is easy to grip and maneuver.
Also, make sure the sander comes with clear instructions on how to use it.
Budget
Last but not least, you need to consider your budget. Sanders can range in price from around $30 to over $300.
While you can have an acceptable performance from the cheap models, we don't recommend going with the absolute cheap ones. You must consider the factors we have outlined above before choosing.
Compromising an important feature to save 10 bucks isn't worth it. So, decide according to your requirements and then see the budget.
Final Verdict
Now you have a list of our best sanders for your needs. All the sanders we reviewed here in our list will give you an amazing final result. However, the power, build, durability, comfort, and drawbacks are factors that make one sander better than the other.
Consider all these factors carefully before choosing your sander. Remember, the best sander for doors is the one that suits your specific requirement. Hope you find this review useful.