Wondering if you can burn wet wood in a fire pit? While it is possible, burning wet wood can be challenging and less efficient. Wet wood contains high moisture content, which makes it harder to ignite and produces more smoke. Additionally, it can create excessive creosote buildup and emit less heat. To ensure a successful and enjoyable fire pit experience, it is recommended to use dry, seasoned wood that burns more easily and efficiently.
Choosing the Right Firewood for Your Fire Pit
Having a fire pit in your backyard can create a cozy and inviting atmosphere for gatherings with family and friends. But to ensure a successful fire and a pleasant experience, it's important to choose the right firewood. In this section, we'll explore the different types of firewood and how to select the best option for your fire pit.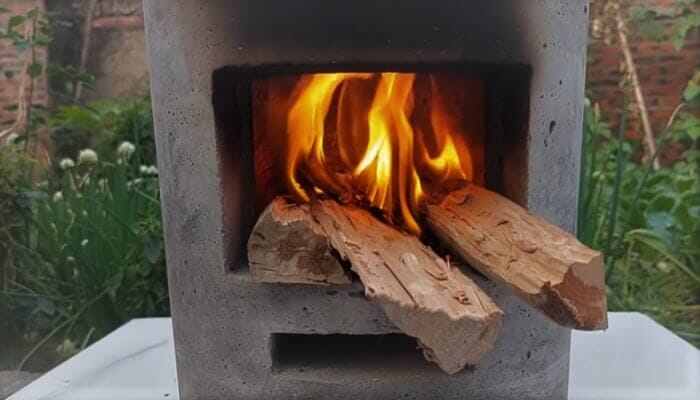 1. Hardwood vs. Softwood
Firewood can be classified into two main categories: hardwood and softwood. Hardwood comes from deciduous trees like oak, maple, and birch, while softwood comes from coniferous trees like pine and spruce. Both types have their pros and cons.
Hardwood is denser and burns slower and longer than softwood. It produces more heat and creates a longer-lasting fire. Hardwood also produces less smoke and sparks, making it a safer option for fire pits. However, it can be more expensive and harder to ignite compared to softwood.
On the other hand, softwood ignites easily and produces a bright flame. It's also more readily available and usually less expensive than hardwood. However, softwood burns faster and doesn't provide as much heat or burn as long as hardwood. It can also create more smoke and sparks, so it's important to use it in a well-ventilated area.
2. Seasoned vs. Green Wood
When it comes to firewood, the moisture content plays a significant role in its burnability and performance. Seasoned wood refers to wood that has been dried properly and has a moisture content of around 20%. This type of wood burns more efficiently, produces less smoke, and is easier to ignite.
On the other hand, green wood, also known as unseasoned wood, has a higher moisture content, usually above 50%. Burning green wood can be challenging as it tends to create more smoke, sparks, and produces less heat. It also takes longer to ignite and can lead to a buildup of creosote in the fire pit, which can be a fire hazard.
3. Size and Shape of Firewood
Choosing the right size and shape of firewood is essential for a well-structured fire. Opt for logs that are approximately 16-18 inches long as they fit well in most fire pits. It's also important to consider the diameter of the logs to ensure they burn evenly.
Splitting your firewood into smaller pieces can also help with ignition and encourage better airflow. This can be done using a splitting maul or axe. Additionally, using a mix of different-sized pieces, such as kindling, small logs, and larger logs, can help create a balanced fire with a good amount of heat.
4. Storage and Safety
To keep your firewood in optimal condition, it's crucial to store it properly. Store your firewood in a dry and well-ventilated area, preferably off the ground to prevent moisture absorption. A firewood rack or shed can provide the ideal storage solution.
When using your fire pit, always follow proper safety precautions. Keep a safe distance between the fire and any flammable materials, and never leave the fire unattended. It's also important to dispose of the ashes properly and ensure they are completely extinguished before discarding them.
Summary
Choosing the right firewood is essential for a successful and enjoyable fire pit experience. Consider the type of wood, whether hardwood or softwood, and the pros and cons of each. Opt for seasoned wood over green wood for better burnability and efficiency. Pay attention to the size and shape of the firewood to ensure a well-structured fire. Lastly, store your firewood properly and prioritize safety when using your fire pit.
Understanding the Effects of Burning Wet Wood
Burning wood is a common practice for heating and cooking purposes, but not all wood is created equal. The moisture content of the wood plays a significant role in its combustion efficiency and the overall impact on the environment. In this section, we will explore the effects of burning wet wood and why it is important to use properly seasoned wood for optimal results.
1. Reduced Efficiency
When you burn wet or unseasoned wood, a significant amount of heat is wasted. This is because the energy from the fire is used to evaporate the moisture present in the wood, rather than being released as heat. As a result, you will need to burn more wet wood to achieve the same level of warmth as compared to using dry wood. This not only increases your fuel consumption but also leads to higher heating costs.
Furthermore, the excess moisture in the wood results in more smoke and particulate matter being released into the air. These harmful emissions can pollute the surrounding environment and contribute to poor air quality.
2. Increased Creosote Buildup
Creosote is a highly flammable substance that can accumulate in the chimney and flue when wet or unseasoned wood is burned. It forms when volatile gases from the wood mix with cooler air and condense on the chimney walls. The higher moisture content in the wood accelerates the formation of creosote, increasing the risk of chimney fires.
To prevent creosote buildup and reduce the risk of chimney fires, it is crucial to use properly seasoned wood with low moisture content. Seasoned wood has been allowed to dry for at least six to twelve months, allowing the moisture to evaporate naturally.
3. Environmental Impact
Burning wet wood not only affects your indoor air quality but also contributes to environmental pollution. As mentioned earlier, the excess moisture in the wood leads to the release of more smoke and particulate matter into the air. These pollutants can have detrimental effects on human health, especially for individuals with respiratory conditions.
In addition, burning wet wood generates higher levels of carbon dioxide (CO2), a greenhouse gas that contributes to climate change. Properly seasoned wood, on the other hand, burns more efficiently and produces significantly less smoke and CO2 emissions.
4. Choosing Properly Seasoned Wood
To ensure the best efficiency and minimize environmental impact, it is essential to choose properly seasoned wood for burning. Seasoned wood has a moisture content of around 20% or less, making it easier to ignite and burn efficiently. Some common types of seasoned wood include oak, maple, and hickory.
You can check the moisture content of the wood using a moisture meter before burning it. If the wood has a high moisture content, it is recommended to let it dry for a longer period or consider purchasing seasoned wood from a reliable supplier.
Summary
Burning wet wood has several negative effects, including reduced efficiency, increased creosote buildup, and environmental pollution. By using properly seasoned wood with low moisture content, you can improve the efficiency of your wood-burning activities, reduce the risk of chimney fires, and minimize your environmental impact. Remember to choose the right type of wood and check its moisture content to ensure optimal results.
How to Properly Season Your Firewood
If you have a fireplace or a wood-burning stove, properly seasoned firewood is essential for efficient and clean burning. Seasoning firewood involves drying it out to reduce moisture content, which improves its efficiency and burn time. In this section, we will discuss the steps to properly season your firewood for optimal performance.
1. Start with the Right Type of Wood
Not all types of wood are suitable for burning. Hardwoods, such as oak, maple, birch, and ash, are ideal for firewood as they produce high heat and burn longer. Softwoods like pine and spruce burn faster but may create more creosote buildup in your chimney. It's important to choose hardwoods for better performance and to avoid potential safety hazards.
2. Cut and Split the Wood
Before seasoning your firewood, you need to ensure it is properly cut and split. Cut the logs into lengths of about 16 inches, which is the standard size for most fireplaces and wood stoves. Splitting the logs helps to expose more surface area, allowing the wood to dry out more efficiently. Invest in a good quality axe or a log splitter for easier splitting.
3. Stack the Wood Properly
When it comes to stacking your firewood, there are a few things to keep in mind. Choose a location that is well-ventilated and allows for good airflow. Avoid placing the wood directly on the ground as it can absorb moisture. Instead, use pallets or a firewood rack to keep it elevated. Stack the wood in a neat and stable manner, ensuring proper airflow between the logs.
4. Cover the Stack
To protect your firewood from rain or snow, it's important to cover the stack. Use a waterproof tarp or a firewood cover to shield the wood from moisture. Make sure the cover extends over the entire stack and is tightly secured to prevent water from seeping in. However, leave the sides open to allow for airflow and avoid trapping excess moisture.
5. Allow Sufficient Time for Drying
Properly seasoning firewood requires time and patience. The drying process can take anywhere from six months to one year, depending on the type of wood and environmental conditions. During this time, check the moisture content regularly using a moisture meter. Ideally, firewood should have a moisture content of around 20% or less for efficient burning.
6. Store Seasoned Firewood Indoors
Once your firewood is properly seasoned, it's best to store it indoors, preferably a dry and well-ventilated area. This will help maintain its low moisture content and prevent it from absorbing excess moisture. Keep the firewood stacked neatly and away from walls to allow for proper airflow. Avoid storing firewood near heat sources or in direct sunlight, as it can cause the wood to dry out further.
In summary, properly seasoning your firewood is crucial for efficient and clean burning. Follow these steps to ensure your firewood is well-seasoned and ready to provide warmth during those cold winter nights. Remember to choose the right type of wood, cut and split it properly, stack it with good airflow, cover it to protect from moisture, allow sufficient drying time, and store it indoors in a dry location. By following these guidelines, you can enjoy a cozy fire with maximum heat output and minimal smoke.
Tips for Drying Wet Wood Quickly
When working with wood, it's not uncommon to encounter situations where the wood becomes wet or damp. Whether it's due to rain, water spills, or any other reason, drying wet wood quickly is essential to prevent damage and ensure the wood can be used effectively. In this section, we will discuss some useful tips and techniques to expedite the drying process for wet wood.
1. Remove Excess Moisture
The first step in drying wet wood is to remove as much excess moisture as possible. Start by using absorbent materials such as towels or cloths to blot the surface of the wood. Gently press the absorbent material onto the wet areas to soak up the water. If the wood is heavily saturated, you may need to repeat this step multiple times with fresh towels.
Additionally, you can use a wet-dry vacuum to suck out the moisture from the wood. Run the vacuum over the surface, making sure to cover all the wet areas. This method can be particularly effective for larger pieces of wood or when dealing with a significant amount of water.
2. Increase Airflow
To accelerate the drying process, it's important to promote airflow around the wet wood. You can achieve this by placing the wood in a well-ventilated area, preferably outdoors or in a space with good air circulation. Make sure the area is clean and free from any obstructions that might hinder the airflow.
If it's not possible to move the wood outdoors, you can use fans to create artificial airflow. Position the fans in such a way that they blow directly onto the wet wood. This will help evaporate the moisture faster and speed up the drying time.
3. Utilize Heat
Heat can significantly aid in drying wet wood. One way to apply heat is by using a heat gun or blow dryer. Set the device to a low or medium setting and carefully wave it over the wet areas. Keep the tool at a safe distance to avoid scorching or burning the wood.
If you have access to a dehumidifier, it can also be a useful tool for drying wood. Dehumidifiers extract moisture from the air, which can help reduce the drying time. Place the wood in a room with a dehumidifier, and ensure that the humidity levels are set appropriately for optimal drying.
4. Allow Sufficient Time for Drying
Patience is key when it comes to drying wet wood. Even with all the right techniques in place, it takes time for the moisture to evaporate completely. The drying time can vary depending on factors such as the type and thickness of the wood, humidity levels, and ambient temperature.
It's important to monitor the wood closely during the drying process. Check for any signs of mold or mildew, which can develop if the wood remains damp for an extended period. If you notice any fungal growth, address it immediately by cleaning the affected area and allowing the wood to dry further.
In summary, drying wet wood quickly requires a systematic approach. By removing excess moisture, increasing airflow, utilizing heat, and allowing sufficient time for drying, you can effectively accelerate the drying process and ensure the wood is ready for use in your projects.
Alternative Firewood Options for Immediate Use in a Fire Pit
When it comes to enjoying a cozy fire pit, having the right type of firewood is essential. While traditional options like oak, birch, and maple are popular choices, they may not always be readily available. So, what are some alternative firewood options that you can use for immediate use in a fire pit? Let's explore a few alternatives that can provide you with a warm and inviting fire.
Citrus Wood
If you have access to citrus trees or fruit orchards, citrus wood can be a fantastic alternative firewood option. Citrus wood, such as orange, lemon, or grapefruit, can burn brightly, producing a pleasant aroma that adds a unique touch to your fire pit experience. Not only does it provide a good source of heat, but it also helps repel mosquitoes and other insects due to its natural oils.
Apple Wood
Apple wood is another excellent alternative for immediate use in a fire pit, especially if you have fruit trees on your property. It burns slowly and produces a sweet, fruity scent that can enhance the ambiance of your outdoor gathering. Additionally, apple wood creates a mesmerizing flame with a warm, reddish glow, making it perfect for creating a cozy atmosphere.
Pine Cones
When you're in a pinch and don't have access to traditional firewood, pine cones can be a handy alternative. Pine cones are readily available in many areas and can be used as kindling to start your fire. They ignite quickly and provide a good amount of heat to get your fire going. However, it's important to keep in mind that pine cones can produce more smoke than regular firewood, so ensure proper ventilation when using them.
Pallet Wood
If you have old wooden pallets lying around, they can serve as a convenient source of firewood. Pallet wood is typically made from treated or untreated softwood, such as pine or spruce. It may not burn as long as hardwood, but it can provide a decent amount of heat for a shorter period. Just make sure the pallets are clean, free of any chemicals or paint, and use them responsibly.
Driftwood
For those fortunate enough to live near a beach or a waterfront, driftwood can be an excellent alternative firewood option. Driftwood is wood that has been washed ashore by water, usually from trees that have fallen into rivers or oceans. It is usually dried out and weathered, making it highly combustible and easy to burn. However, it's important to note that driftwood can release salt and other chemicals when burned, so it's best to use it for outdoor fires only.
Summary
While traditional firewood options like oak and maple are widely used, there are several alternatives that you can use for immediate use in a fire pit. Citrus wood, apple wood, pine cones, pallet wood, and driftwood all offer unique benefits and can provide a warm and inviting fire. Remember to exercise caution and follow proper safety guidelines when using any type of firewood, and always ensure you have proper ventilation to prevent excessive smoke. With these alternative firewood options, you can enjoy a cozy fire pit experience even when traditional options are not readily available.
FAQs
Can you burn wet wood in a fire pit?
Burning wet wood in a fire pit is not recommended. Wet wood tends to produce more smoke and less heat, making it inefficient and potentially harmful to breathe in the smoke. It is best to use dry, seasoned wood for a more efficient and enjoyable fire.
Conclusion:
In conclusion, burning wet wood in a fire pit is not recommended. Wet wood contains moisture, which can hinder the combustion process and produce excessive smoke. This not only affects the efficiency of the fire but also creates more pollution. Dry wood, on the other hand, burns more efficiently, generating more heat and less smoke. It is important to properly store and season wood before using it in a fire pit to ensure a safe and enjoyable experience. Remember, using dry wood will not only benefit the environment but also provide a better fire experience for you and your companions.