In order to get the smoothest finish on your wood project, you need to use a bench plane. There are actually many types of bench planes are available in the market but the jack and smoothing planes are most popular among them.
They have some features that make them appropriate for different tasks. The jack plane and the smoothing plane are often used interchangeably, but there are a few key differences.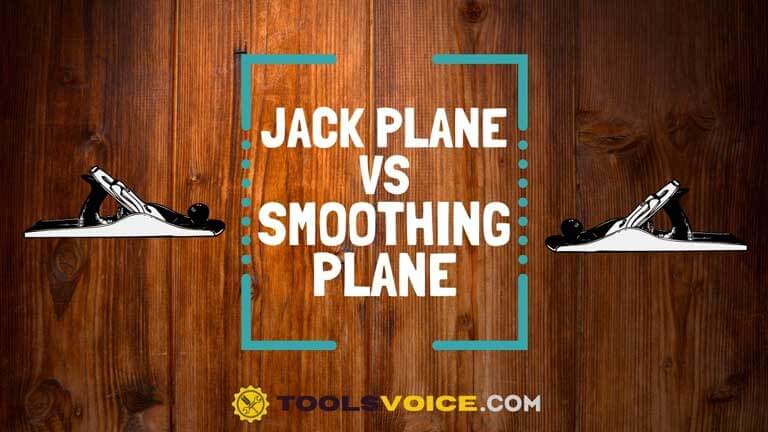 Let's go over the differences between a jack plane and a smoothing plane in more detail so you can make an informed decision about when to use these on your projects!
Difference Between Jack Plane and Smoothing Plane
Use of the Planes
Jack planes are used to flatten large surfaces quickly, such as tabletops or larger cabinet parts. The jack planes have a short, flat blade with sharp corners that can be set to any thickness by loosening or tightening screws at either end of the blade.
Jack plane is excellent for jointing work as well, Whenever you need to smooth the edges of two boards that will be joined, this type of plane is perfect for the task.
You can also use this type of plane to smooth the wood before finalizing it with a smoothing plane. This is why the jack plane is called "jack of all trades."
On the other hand, smoothing planes are best suited for the final stages of finishing and polishing your project. The blades of this tool are very thin and long for smoothing out the grain of your wood that keeps some natural texture in the wood to prevent splintering.
Cutting Edge
A jack plane is a general-purpose plane and as a result it has rounded corners and is honed straight on its cutting edge. The rounded corners will help prevent tracks from forming on surfaces that are wider than the plane iron.
The cutting edge of the smoothing plane is slightly cambered or crowned. Technically, the shape of cutting edge on a smoothing plane is shaped like a curved onion skin. This shape can give wood very minimal curves, but these curves are hard to see since the cuts overlap.
Planes Size
Bench planes are labeled by number and the bulk of their range from no. 1 to no. 8 depending on size.
One of the most popular bench planes is the smoothing plane. With the classified traditional number tag, the no. 4 and the no. 4½ bench planes are termed smoothing planes–the former has a 9-inch sole length, while the latter is 10 inches long.
The smallest bench planes (no. 1 and no. 2), which are 5½ inch and 7-inch long respectively, can also be called a smoothing plane. But they are not ideal for your regular smoothing projects. The planes are too small to fit your hand perfectly. That's why some woodworker call them a Kids bench plane.
The width of a smoothing plane iron ranges from 1¼ inches to 2 inches.
The more popular bench plane is the no. 5, also known as a jack plane. Basically, it has 2-inch cutting width with a 14-inch sole length and is perfect for both rough and finished work. Sometimes the length of a jack plane can range from 11½ inches to 15 inches and the width can range from 1¾ inches to 2⅜ inches.
Examples of Planes
To better understand the difference, we will show you some examples of jack planes and smoothing planes. First, we introduce you to the no. 4 smoothing planes with their amazing feature. You can use these short smoothing planes to create a glassy surface ready for the final finish.
WoodRiver #4 Bench Plane, V3
This WoodRiver plane weighs just 5lbs, which is perfect for extended use.
It is great for use on furniture parts including cabinets.
Check on Amazon
Stanley – No.4 Premium Bench Plane
The blade on this plane is made of A2 steel which has increased edge retention and a longer lifespan.
This can be useful for smoothing out pesky corners and edges on common furniture.
Check on Amazon
Now, we are going to show you the "jack of all trades" no. 5 jack plane. Which can be used for both rough work and final finishing because of its ability to take heavy cuts along with fine shavings.
A no. 5 jack plane can even be a good substitute for a jointer if you need to save space in your workshop or spend less on tools. Even though jack planes are normally used for the early milling stages, they're also great for quickly plane high spots on a board.
Stanley no.5 Low Angle Jack Plane
The one-piece base and frog are fully assembled for you, so you can skip the tuning process.
You can use this for sizing when you want to trim off small amounts of wood.
Check on Amazon
Caliastro No. 5 – Iron Jack Plane
It features a solid brass blade attachment nut that will last longer than a clamp.
This plane is perfect for both rough and finished work
Check on Amazon
Planes Frog
One notable difference between a jack plane and a smoothing plane is the "frog". Jack planes have toothed edges (or irons) that often teeth into the wood, whereas smoothing planes feature an iron with no sharp edges. This means that you can make smoother surfaces without leaving ugly tracks in your workpiece.
This is why expert woodworkers speak out that the main difference between a jack and smoothing plane is the teeth on the bottom of the blade.
Irons Angle
Similar to the jack planes, the smoothing planes come at 45 degrees bevel down with the irons pitched. Plus, there is no difference in the type of wooden planes, nowadays most wooden planes are also set this way.
But there are 2 versions of both the jack and smoother plane, one with low-angle metal irons pitched at 12 degrees bevel up, and a high-angle 45 degrees bevel down version.
Purpose
The jack plane and the smoothing plane are two different tools with their own purposes. The jack planes' main purpose is to flatten large surfaces quickly, while the smoothing planes' main purpose is to create a very flat surface that can be polished with ease.
If you're looking for just one tool that does both functions equally well, jack planes are for you.
You may want to know:
Conclusion
We hope this article helped you understand jack and smoothing planes a little better. The jack plane and the smoothing plane are better suited for smaller surfaces, making these planes appropriate for frequent use.
These planes are also well suited to finer tasks, for example if you need a smoothed surface on small elements. You may find that this is a faster process than using oil or finish. That's it, have a nice day!