Woodworking, as a hobby, is getting very popular nowadays. But it is not just a regular hobby you can get into on a whim. It is something that requires dedication, effort, and time.
Because of the nature of this hobby, the tools that you get for it are very important. They need to be of topmost quality because you're going to use them a lot when learning new woodworking skills.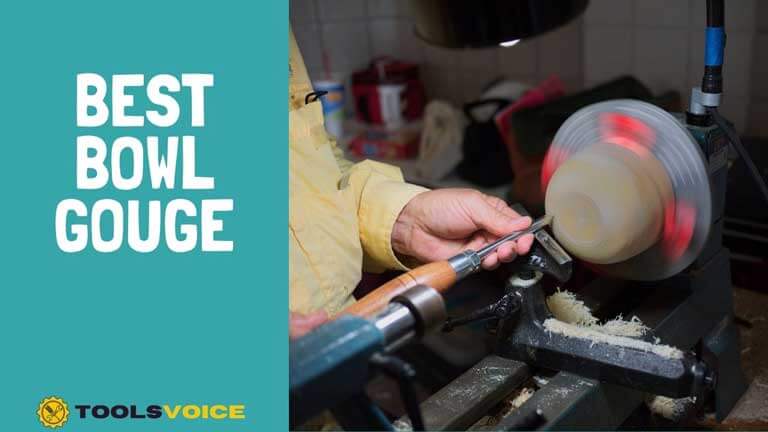 Woodturning is a specific category of woodworking. It is done by cutting symmetrical shapes around the axis of a rotating wood piece.
With the best bowl gouge, you will be able to make gorgeous bowls effortlessly as your beginner woodturning projects. Not sure which one to buy? We will help you with that in this article!
Best Bowl Gouge Reviews
Many different brands offer bowl gouges nowadays. We have scoured through them all to find the best ones. Keep reading to know more!
1. Carter and Sons 5/8″ Bowl Gouge
Carter & Son is a famous American manufacturer of woodturning tools. They started making products because the owner was not satisfied with the quality of woodworking tools available in the market at that time. Today, they make products that excel at the turning lathe.
At 5/8", this bowl gouge is quite a big tool. So, if you need to do some bigger bowl making projects, check this one out.
As stated before, Carter & Sons aim to make products that will not only be well made but also excel at their job. This bowl gouge is no different. It has fantastic build quality.
Particularly for larger bowl gouges, that is very important. Because bigger bowl gouges often go through more abuse when being used. If the tool did not have a good build, it would lose its quality pretty quickly after a few uses.
The aluminum handle, although not liked by some, is lightweight. This is a pro because larger bowl gouges tend to be heavy. The aluminum makes it lightweight. You can probably guess that holding & handling this item is a bit awkward. Yes, due to its large size, it needs some getting used to.
Unfortunately, that also means this tool is not the best option for a novice. If you just want to try out the tool, stick to smaller bowl gouges.
Pros
Aluminum handle provides stability
Certified heat-treated at 68 HRC
Provides enriched experience with woodturning
Easy to sharpen
Super sharp tip & edge for superior accuracy & precision
Cons
Too big for beginners
Needs getting used to first
Check Price on Amazon
2. Robert Sorby Fingernail Bowl Gouge
While Carter & Sons is dominating the US market, Robert Sorby is the king of specialist woodworking tools in the UK. It is much larger, too. This company has been creating & perfecting such tools for over two centuries. Today, they sell high-quality woodworking tools worldwide.
If you were bummed that you can't buy the previous bowl gouge as a beginner, then you'd be delighted to know that this is the perfect beginner's bowl gouge. That is if you do not mind spending some extra few bucks.
Despite being pricey for what it is, this item is worth its salt. The versatility, performance, and quality you will get will make up for the price. Let's talk about the build first. The handle of this tool is quite long. When it comes to gouging, the longer the handle, the easier it is to turn the bowl.
So, working with this gouge and learning the ropes will be easy. The blade is made of tempered & hardened high-speed steel. This steel has excellent edge retention, so much so that it is said to be able to stay sharp for six times longer than carbon steel.
Not to mention, if things get too hot during use, this blade will not get softened & bent. All in all, it is a great tool.
Pros
Tempered & hardened high-speed steel can stay sharp 6 times longer than carbon steel
Will not succumb to overheating
Capable of making intricate & delicate cuts
Nice & long hardwood handle for better maneuverability
Cons
Too expensive for a beginner tool
Check Price on Amazon
3. Hurricane Bowl Gouge 3 Piece Set
If, for personal reasons, you were not into the previous beginner set we have reviewed, no worries! We are presenting another great option at your disposal.
Hurricane Turning Tools is a China-based company. They own one of the world's biggest turning tool facilities. It gives an idea of how much they sell and how popular they are.
This set comes with one ¼" flute width, one 3/8-inch flute width, and one ½ inch flute width bowl gouge. They boast super long handles, so you know that using them would be a breeze. Also, they are made with very high-quality M2 High-Speed Steel (HSS). The manufacturer claims that HSS lasts up to 8 times longer than carbon steel.
These tools ship unsharpened, which can be a good or a bad thing depending on how you look at it. On one hand, it is tough for beginners to know how to sharpen new tools; on the other hand, most woodworkers prefer putting their own grind on wood tools.
As a beginner, you would expect the tools to be ready to use out of the box. You might even be surprised at the unsharpened tools that you get. Having said that, it is possible that you would end up enjoying doing this by yourself, like many woodworkers. Learning how to do it is not very tough either.
Pros
Extra-long handles, even as long as 16 inches, for better control
Made from great quality M2 high-speed steel
Superior edge holding capability
Superb performance
Cons
Needs to be sharpened before they are usable
Check Price on Amazon
4. Woodstock D3804 1/2-Inch Bowl Gouge
If you want something that is tried and tested, then Woodstock can be your go-to brand for woodturning tools. It is a simple-looking tool that outperforms almost everything else. So, don't judge the book by its cover.
This small bowl gouge has a deep U-shaped flute. But some people mistake it for being V-shaped. The bar has a standard 45-degree angle and ½ inch diameter. Together, the bar and the flute width are perfect for any bowl gouging job. The grind is standard, but if you want, you can transform it into a fingernail grind by yourself.
Like the rest of the products on this list, this, too, is made of high-speed steel. It is very easy to sharpen, which is always a plus for me. Steel that does not sharpen well is a huge hassle. The length is long, making this the perfect tool for a beginner.
Because of the longer length, you can also gouge larger bowls with this one. The wooden handle might not look like much, but it is strong, sturdy, and comfortable to hold.
The gouge does not come very sharp in the package. You could still work with it, but it's not that great. My recommendation would be to sharpen it before you use it. Otherwise, your first impression of this fantastic tool might be a bad one.
Pros
The handle is strong, sturdy, and comfortable to hold
High-speed steel construction that sharpens easily
Longer design suitable for making deeper wood bowls
Great depth of flute width
Cons
Needs to be sharpened the first time before use; which might be an issue for beginners
Check Price on Amazon
5. Yellowhammer Woodturning Bowl Gouge Set
Yellowhammer is quite new in the industry still. Founded in 2016 in Alabama, Yellowhammer makes products for woodworking in general. Meaning, they are not specialized in one area of woodworking. They make products for everyone – from hobbyists to amateurs to professionals.
So, no matter where you stand in the woodworking scene, the manufacturer has something for you. This particular three-piece set is a great starter kit for someone willing to try their hand at woodturning. It is quite affordable too. You will get a set of three for the price of one bowl gouge from bigger name brands.
This set includes a ¼ flute, a 3/8 flute, and a ½ flute length bowl gouge. So, you will be getting a good variety of sizes to start playing with. You can start learning with the ½ and then move up or down a bit according to your preference. So, as I have stated before, it is perfect for beginners.
The blades come pre-sharpened, with edges sharp enough to get started without having to sharpen first. They retain their edge really well, too. I have no complaints about performance, either. You would not be able to guess their price if you judge by performance.
Pros
A perfect value set for novices
Sharp enough & makes clean cuts
Can keep the edge fairly well
Comes pre-sharpened
The best quality you can get at this price range
Cons
The black paint gets smeared on the skin
Not as well made as others on this list
Check Price on Amazon
6. Crown 242EW 1/2″ Ellsworth grind bowl gouge
On our 6th spot, we have another UK based company, Crown Hand Tools. They have been making premium quality traditional hand tools for woodworking for the last five decades. They balance tradition with innovation in their products, delivering the finest handmade woodworking tools you can get.
What's so special about this tool is that it is designed by David Ellsworth, who is an internationally recognized woodturner. So, it delivers nothing but the best of the best, something only a professional could design.
For finer projects, this gouge is the match you've been missing. It has an attractive tapered beech handle. Moreover, this bowl gouge handle length is 17 inches long. The tapering adds stability and reduces vibrations. Thus, it makes your work easier. It has a very specific tip shaped like a parabolic flute, with a fingernail like a grind.
This special design allows you to get into delicate, intricate details for finer works. You can also make roughing cuts with it if needed. Moreover, this is something that can be used on both the inside and the outside of a bowl. So, the product gets a 10/10 for versatility from us.
Crown tools are held in high esteem and often used as the benchmark for other products. This item deserves the same esteem and love.
Pros
Exceptionally well made & will last for a long time
Can last up to 6 times more than Carbon steel
Designed by David Ellsworth, internationally-recognized woodturner
Special hollow fingernail grind
Perfect for finer details thanks to the special tip
Cons
Needs to be honed before you can use it
7. Carter & Son Toolworks Bowl Gouge (1/2″)
We are wrapping up our review section by bringing back the same beloved brand we had started this list with – Carter & Son. If this is the brand of your choice, but our previous listing was too large for you, then this one would be a better fit for your needs.
This bowl gouge is a thing of beauty. It is by far one of the best-looking ones we have featured. This is because the body is completely hand-polished. Along with good looks, it delivers the same great quality Carter & Sons is known for. Yes, you can expect this to perform just as well as its predecessor.
The tool is made with M42 high-speed steel, which provides the best performance for gouges. With the 10% added Cobalt, the hardening is further improved, reaching 68 HRC. This ensures the edge will have superior edge retention compared to other products, and you will not have to sharpen it often.
Thanks to this, you can also hone a finer, keener edge. So, your woodturning projects would be as precise & smooth as can be, given that you have the skill, of course.
Much like the previous Carter & Sons product, this too has a hardy aluminum handle that makes the tool lightweight while also adding strength.
Pros
M42 high-speed steel with Cobalt makes a hard body that retains edge well
Superior edge retention ability & hones really well
Beautiful aesthetic metallic finish
Robust aluminum handle that is lightweight
Cons
Might be too expensive for some
Bowl Gouge and Bowl Turning Guideline for Beginners –
What to Look for Before Buying A Bowl Gouge?
Before you buy a bowl gouge, you should ensure that the one you get is a good fit for you & the type of work you want to do. Here are the things you should know to do that –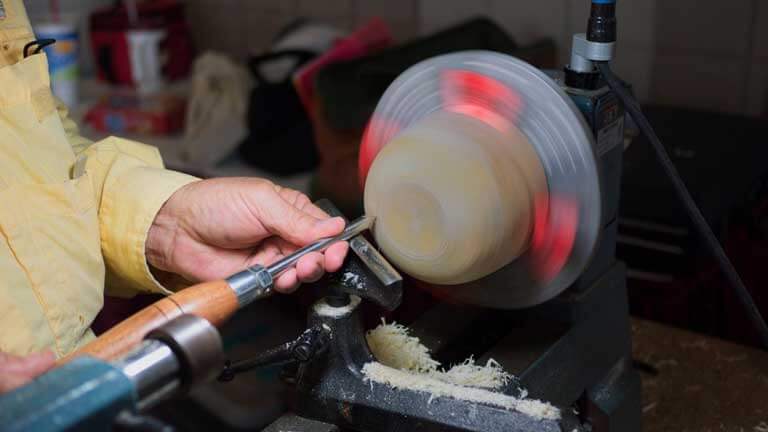 Size
When we refer to the size of a bowl gouge, we mean the width of the flute, not the length. There is a range of sizes bowl gouges come in, the standard ones being ½", 5/8", ¾." Bowls that are smaller, with a diameter of fewer than 12 inches, are made with ½" gouge.
For bowls with 12 to 14 inches diameter, you have to use a 5/8" gouge. And, if you want to go even bigger, the ¾" bowl gouge size can make a bowl with diameters of 14 inch or more.
If you are just a beginner, start with a ½" bowl gouge first. Then change the size as per your preferences.
When purchasing, ensure that the size stated by the manufacturer actually matches the width of the flute. Otherwise, you may end up with a tool size you did not mean to purchase.
Material
Bowl gouges come in a few different materials – High Carbon Steel, High-Speed Steel (HSS), M2 HSS, M24 HSS, and Cryogenic M2 HSS.
Older bowl gouges were made with high carbon steel. However, they are not very robust, and they wear out quickly. So, they need very frequent sharpening. High-speed steel is a better fit for gouges, so all good quality bowl gouges are now made with them.
HSS is an alloy that contains Tungsten, Molybdenum, and Chromium. This mix of metals can withstand a lot of abuse & heat. They also retain an edge better than carbon steel. M2 HSS is an enhanced version of HSS. It is the best material out there for gouges. This thing lasts the longest and needs the least sharpening.
Flute Shape
The flute of bowl gouges come in different shapes. Some such shapes include deep U-shape, deep V-shape, shorter U-shape, shorter V-shape, etc. Among these, the deep shapes are more common in traditional bowl gouges. But they are not as effective as professional tools.
If you want a smoother cut and an effective woodturning experience, go for a shorter U-shape. This shape is also called the super flute.
Grind Type
There are three popular flute shapes & gouge profiles. But you might have preferences of your own.
These grinds are used to finish the interior bottom of a wooden bowl. They excel at handling difficult wood grains and smoothening them out. Also, they are easier to sharpen because they are straight across with no curves.
Because of their wide use of interior bottoms, they are known as the "bottom feeder". These pair well with U-shaped flutes.
You cannot call yourself a true professional unless you master the fingernail grind. This grind is extremely versatile and can be used for shear cutting, detailing, roughing, etc. They are a bit more difficult to use than the previous kind.
The fingernail gouge has a bevel angle of around 50 degrees with a side wing that sweeps back.
This one is the most useful & versatile of them all. It can do everything – scraping, roughing, finishing, etc. Most professional turners frequently use this grind.
Handle
If the gouge you are using does not have an optimum size, you will have a tough time getting good use out of it. The handle plays a big role in making a gouge easy to handle and maneuver. Usually, longer handles are better to work with. Commonly, handles are made of hardwood or metal.
While most people prefer hardwood, metal handles work just fine too.
Frequently Asked Questions
1. What Is A Bowl Gouge?
A bowl gouge is a tool used for woodworking that is generally meant for use in woodturning. With it, you can create a hollow inside a woodblock – eventually turning the woodblock into a bowl. You can make kitchen platters, wooden bowls, and any other kind of woodturning project.
Bowl gouges come in many different sizes and shapes. Many woodworkers get a set that comes with three or more bowl gouges that vary in size & style. This allows them to be more precise with the woodturning projects by using specific gouges for specific purposes.
It also allows the chance of using different types of wood.
2. What Size Bowl Gouge Should You Get First?
Each size of bowl gouge is suitable for one specific purpose. So, it would be better if you do your research on the sizes and their uses before getting one.
For a beginner, we would recommend getting a ½" size bowl gouge first. Try it out, and make a few test bowls to get the hang of it. Once you are relatively experienced and would like to try your hand at making other sizes of bowls get – ¾", 3/8", and 5/8" bowl gouge sizes.
The best thing you can do is get a set of three gouges. That way, you can learn to be more precise with basic bowls.
3. How To Sharpen A Bowl Gouge?
4. Bowl Gouge vs. Spindle Gouge – What Is The Difference?
Both bowl gouge & spindle gouge are woodturning tools. They are similar, too. The difference lies in their flutes. A bowl gouge is used for making wooden bowls, and their flutes are curved into an either U or V shape. They can cut off larger pieces of wood.
On the other hand, a spindle gouge is used for detail work in spindle turning jobs. Their flutes are in an open flat in a shallow U shape. They make smaller cuts, which helps in precision designing.
5. Bowl Gouge vs. Roughing Gouge – What Is The Difference?
Both of them are used for completely different purposes. You use a roughing gouge to turn rough wood into rounds. Bowl gouges are used to make bowls by creating a hollow.
A bowl gouge is made with a round steel bar. Its flute is ground into the bar. A roughing gouge is made with a flat bar. The bar is bent to form its flute.
6. What Is A Fingernail Bowl Gouge?
The term 'fingernail' refers to the grind a bowl gouge has. For a fingernail, the bevel is angled at 50 to 55 degrees, with a swept-back wing on the side. A fingernail grind is also called Irish grind, and Ellsworth grind.
More Woodworking Guides:
Final Words
At last, we have come to an end. While all of the bowl gouges reviewed deserve the best bowl gouge title, we are partial towards the CrownEllsworth and Carter & Sons products.
The Crown one is truly versatile and a great product to have as a professional. On the other hand, Carter& Sons products have the best materials & construction, and they will faithfully serve you for years. You cannot go wrong with either of them, and they are worth every penny.
That's all for today. Best of luck with your wood adventures!