A router is essential for most woodworking projects, and a 3hp router can be a great asset to any workshop. The 3hp router is a powerful router that has the ability to handle all of your routing needs.
With it, you can tackle tough materials with ease. This router is highly used for flattening wood and making decorative moldings, door & window frames, dovetail joints, and so on.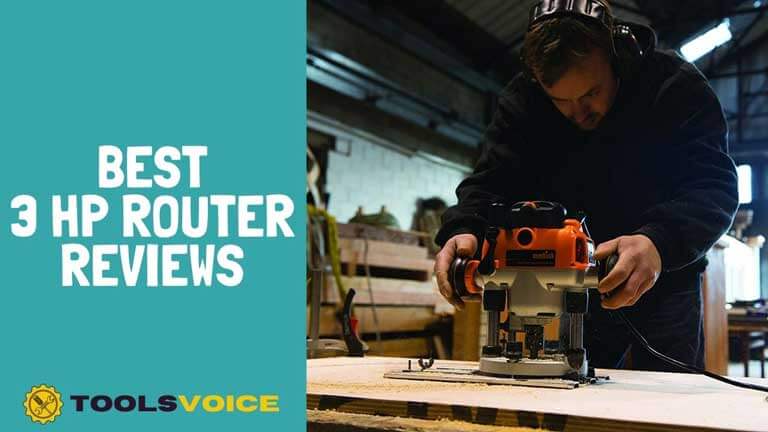 What's the best 3 HP router available on the market? We took a look at all of the top wood routers and narrowed it down to six that we think are worth checking out.
Top Five 3-HP Routers Comparison Table
| | | | | |
| --- | --- | --- | --- | --- |
| | | | | |
| DEWALT 3-HP Router (DW625) | | | | |
| Makita RP2301FC Plunge Router | | | | |
| Triton TRA001 Plunge Router | | | | |
| Makita RP1800 3-1/4 HP Router | | | | |
| BOSCH MRP23EVS Plunge Router | | | | |
6 Best 3 HP Router Reviews
If you're looking for a high-quality wood router that will last a lifetime, then this is the article for you! We'll go in-depth to discuss what makes these routers so great and why they are worth your money.
1. DEWALT 3-HP Router (DW625)
Our buying guides are as impartial as possible, but we'd be lying if we said we're surprised to find a Dewalt router at the top of the list. This particular router, the Dewalt DW625 3-HP, is a workhorse capable of providing more than ten years of highly satisfying use.
Let's slow things down and talk about everything first, though. The router's first significant feature is versatility: a robust 15-amp motor generates 3-HP speed, adjusting speed settings between 8,000 and 22,000 RPM.
That's not all it does for convenience, however. The large, heavy bearings and no-nonsense were great hits because a product for complex tasks like leveling needs to be intuitive.
The depth adjuster was particularly impressive. It's a micro-fine bit rack-and-pinion style adjuster, enabling much faster and more accurate depth settings.
Everything included, the Dewalt DW625 package also contains a dust extraction adapter, a wrench, and a template guide bushing adapter, along with a ½ inch collet and a ¼ inch collet.
Pros:
Robust and durable motor with adjustable speed settings
Soft start means no jerky movements that could ruin projects
Square spindle-lock button for added comfort and ease-of-use
Comes with a one-year free service contract
Built with long-lasting parts capable of providing years of good performance
Quiet performance that doesn't get annoying after a few minutes
Cons:
The DW625 doesn't include wing nuts, which you'll need to use a router base or edge guide.
The plastic handles are made of highly cheap quality plastic.
Check Price on Amazon
2. Makita RP2301FC Plunge Router
It's a little expensive, but the Makita RP2301FC 3-1/4 HP Plunge Router deserves a spot on our guide for many reasons. One of them (and we guarantee you'll love this) is the consistent performance delivered by this router, a fact confirmed by thousands of happy customers.
Still, we're hardly going to ask you to take us at face value. Like the Dewalt dw625 router, this router comes with a powerful 15-amp motor. In this case, though, speed settings range from 9,000 to 22,000 RPM.
The best part for us was that the Makita RP2301FC is designed to be a tremendous upgrade to your work experience. There's almost no end to the quality-of-life features, like ergonomic rubber handles for better grip and large two-finger switches for better control and usability.
A drawback of this great router is that Makita products are nowhere on the cheap side like usual. In fact, the RP2301FC comes in almost fifty dollars above the Dewalt router.
With Dewalt's prices, that's saying something.
Still, if you're looking for a 3-HP router that's slightly more heavy-duty than Dewalt or one of BOSCH's lower-range models, the Makita RP2301FC fits the bill perfectly.
It even comes with two cute twin LED lights to illuminate the work area, which is… that's just adorable. Come on.
Pros:
Ergonomic rubberized handles for non-slip grip
Twin LED lights illuminate the work area, adding to its usability
Maintains consistent speed even during extended periods of use
A soft start to enable careful performance on projects
Smooth plunge action requiring minimal force
High-quality power cord
Cons:
The wing nut and cap nut are low-quality plastic and aren't durable.
The soft-start can sometimes delay the wind-up to the actual speed setting from what we saw.
Pretty expensive even when compared to the usual high prices of 3-HP routers
Check Price on Amazon
3. Triton TRA001 Plunge Router – Best 3HP Router for Table Mounting
It's cheaper than both the Makita RP2301FC and the Dewalt DW625, but what's surprising about the Triton TRA001 3-1/4 HP Plunge Router is that it's probably one of the highest-performing models we've seen yet!
We noticed first that it came with single-button switches that let you change from a conventional plunge router to a fixed-based router instead, with an easy-to-use rack and pinion mode.
Mounting the Triton TRA001 3HP Plunge Router is extremely easy as well, with quick-fit pins located at the base enabling rapid fittings to a mounting plate. We loved the removable plunger spring, which was surprisingly helpful for easy bit adjustment.
The 3-Stage turret construction also features direct reading scales (none of that murky glass business), so you always have precise cut depths.
This Triton router came with better dust extraction than the RP2301FC, with side air vents that reduced dust intake into the motor casings.
We haven't even mentioned its safety features yet, have we?
The fully enclosed guard provides optimal protection from the cut zone. There's also a handy safety switch shutter that locks the bit-change mode to prevent it from accidentally powering on.
Pros:
The built-in router lift enables easy bit changes
Bit-change can be performed with a single wrench
Spindle lock engages automatically for safe bit changing
The spindle lock only engages during bit changes and when the power switch cover is closed.
Well-constructed side air vents efficiently prevent dust intake
Fully enclosed guard for optimal protection
Cons:
The Triton TRA001 is made of cheap quality plastic. If your tools see a knock now and then, this router probably won't last very long.
Putting this router into a table isn't a great idea because of the low-quality handles.
It's also cumbersome, making it unsuitable for light or hobby routing.
Check Price on Amazon
4. Makita RP1800 3-1/4 HP Router
The Makita RP1800 3-1/4 HP Plunge Router is a commercial-grade product that pulls through where many other routers don't. If you're a professional needing consistent and flawless work, this is the router you want to be looking at.
Out of all the routers we considered for this buying guide, almost none provide the heavy-duty performance that the RP1800 does. The RP1800 doesn't come with adjustable speed and instead has its RPM fixed at 22,000 rotations.
That's not to say that the Makita RP1800 is hard to use, though.
Makita made smooth performance a priority in the RP1800 by including several quality of life features that upgrade performance while increasing accessibility.
The high-quality linear ball bearings are just one of them and enable a much smoother plunge-action than the Makita RP2301FC.
The quick-release plunge depth adjustment and the micro control also deserve special mention. You'll find a total of 3 preset depth stops for easy use and added precision.
If you want to know what we think, well… this router's a beast. The plunge action is incredibly smooth and intuitive, and you don't feel much strain when using larger bits.
You will, however, want to keep in mind that, like the other Makita product, this is a heavy-duty, commercial-grade router meant for serious woodworking and not hobby use.
Pros:
Intuitive and easy plunge action
Made of long-lasting materials that seriously upgrade tool life
Commercial-grade performance suitable for most professional applications
Three preset depth stops for precision and easy use.
0″ – 2 ¾" plunge depth capacity to reach surfaces easily
The lock-on trigger helps in operating for extended periods.
Cons:
The trigger's safety is cumbersome to operate.
It doesn't come with a soft start, so you'll have to keep it away from your project when starting the router up.
The brushes are very noisy, which gets annoying after a while.
Check Price on Amazon
5. BOSCH MRP23EVS Plunge Router – Under 3-HP
It's not as commercial-grade a product as the previous Makita. Still, the BOSCH 2.3 HP Router MRP23EVS nevertheless makes it onto this buying guide with surprisingly decent performance, a powerful motor (yes, powerful again), and a somewhat cheap price tag.
Unlike the previous Makita RP1800, the BOSCH MRP23EVS has variable speed settings. The speed ranges from 10,000 – 25,000 RPM, making it versatile for a wide range of uses.
BOSCH's Constant Response circuits keep up a constant speed once you set the speed dial so the router won't be jerking all over the place. The MRP23EVS router also features extremely accurate plunging action.
Like the Makita RP2301FC, this router came with twin LED lights on either side for illuminating the project. In this case, though, the dual lights are always-on.
A feature we also loved was that the cord was at least 10 feet in length. It doesn't sound all that important, but when you're working in a large workshop with unfortunately placed sockets, it's a lifesaver.
Pros:
Easy-to-use trigger on/off switch
Slight weight and good construction mean it feels great to work with
Dual LED lights make it easy to see the work area
Powerful variable speed settings capable of going up to 25,000 RPM
Two-stage quick clamp for effortless conversion
Contoured handles with soft-grip material for easy use
Cons:
The plunge shafts need to be lubricated before use, or they keep on sticking.
While it's accurate, the plunge action on this router is stiff, which makes it a little challenging to use.
It's also a little weighty, so if you're used to smaller routers, this might not be the one for you.
Check Price on Amazon
6. Triton MOF001 Dual Mode Router
Suppose you like Triton products but don't want something as large as the Triton TRA001 3-1/4. In that case, we have the perfect pick for you: the Triton MOF001 Plunge Router, a well-performing, affordable product that comes highly rated by both hobbyists and professionals.
We're going to start strong: the absolute best part of this router is the round base. Most routers come with a flat base, which makes them unsuited to jigs that align with the base.
Besides that, this versatile product is suited to both handheld routing and being mounted to a router table since it comes with an above-table hand crank. We liked the power switch's safety cover, which prevents embarrassing workshop accidents.
You'll see slight stiffness in the plunging action, but we thought it was pretty easy to deal with: make sure you're applying force to the rack-and-pinion side.
Unique design features like micro-adjustment from above the table make this an excellent router for the weekend user or hobbyist.
Pros:
Great for table-mounted operations
Package includes a regular edge guide along with a hand crank
Noticeably quieter than a lot of other off-the-shelf routers
Efficient dust collection capabilities to prevent it from getting into the motor casing
Includes soft start to avoid sudden jerks
Cons:
Dust collection port isn't compatible with most standard vacuum hoses.
The manual isn't beneficial. You're better off consulting one of the woodworking guides on YouTube.
Check Price on Amazon
How to Choose the Best 3HP Router
Seasoned DIYers will know the impact that getting the right wood router can have on the overall quality of your project, but for people new to the scene, let us spell it out. Whether you're looking for a round-over or an ogee edge, a wood router is always a tremendous improvement to any project.
Their importance makes choosing the best 3 Horsepower router challenging. For example, it's always good to have a router with adjustable speed capabilities, but you also need to ensure that the RPM range serves your needs and isn't too high or low for your project.
Types of Wood Routers
Even with that said, most people have no idea what they should be going for when looking for a router, which is why below, we'll explore some types of wood routers. We'll also talk about what you should be considering when buying a router in the first place!
Fixed-Base Routers
Widely considered a fairly basic type of wood router, fixed routers are the recommended models for beginners and hobbyists because of how easy they are to use. Their setup needs a couple of minutes maximum, and while you can effortlessly use them on the edges of panels and workpieces, you'll have some trouble using them in the middle of the wood piece.
Plunge Router
Plunge routers are slightly more complicated to use but feature more versatility than fixed-base routers. These routers use a spring-loaded base that enables users to lower the router-bit on a workpiece slowly. They're way better for working in the middle of a workpiece (also called the field) but don't do as good at edge-profiling, often resulting in an uneven profile.
Combo Routers
An alternative to both is combo routers, which let you swap bases by providing both capabilities in the same router. Most of the time, these combo kits allow you to switch modes easily, though you'll want to keep in mind that their price reflects their enhanced usability.
What to Consider When Buying 3-HP Routers
This time, we're diving right into it. Below, you'll find our picks for the factors you should consider when buying a wood router:
The Type of Wood Router
The type of router is the first thing you should look at, though that goes without saying. A fixed-base router, the more common and inexpensive variant, is more than enough for general applications and hobbyists. They also let users build their jigs for different situations.
On the other hand, users wanting that extra versatility, or a router for professional use, will be enjoying a combo router with both fixed-base and plunge-action capabilities since they're compatible with a professional router table.
At least, in most cases.
Horsepower
The unit's horsepower is one of the most important things for a wood router. It's going to be the deciding factor in how well the router handles larger bits (and yes, that's important! Making a single pass with a larger bit is more efficient than multiple passes with smaller bits). The router's horsepower is also an essential factor for plunge routers since more horsepower helps the router deal with the extra friction.
Most routers come with horsepower between 1.5 and 2.5, though if you're a really serious user, you'll want to go for 3 horsepower routers that can efficiently deal with any project you undertake. These are also the best at coping with dense materials because of their powerful and robust 15-amp motors.
Variable Speed and Grip Comfort: Quality-of-Life Features
The last two features you want to be looking for, variable speed settings and a comfortable grip can be sorted into the same category: quality-of-life features. You'd think variable speed would be a vital feature for professionals, but from what we see, most woodworkers end up using a single setting that's comfortable for them and don't switch all that often.
Not all that surprisingly, most people expecting to put in long hours will shell out money for a comfortable grip.
A side note about grips: most plunge routers and combo routers have two handles to enable better control. You want to go for rubberized handles instead of wood handles, and when you're considering, pick up a router with handle-mounted switches. They're a lifesaver!
Final Verdict
This time, choosing a winner was way easier said than done, as all of these routers came with definite ups and downs. The Dewalt 625 and the Makita RP2301FC 3-1/4 HP Plunge Router prioritized function over affordability and were noticeably two of the most expensive.
Conversely, the Triton routers, the TRA001, and the MOF001 were focused on quality-of-life features for the weekend user and were a little cheaper than the rest.
Routers never come very cheaply in the first place. We didn't feel very guilty when unanimously choosing the winner: the Makita RP2301FC 3-1/4 HP Plunge Router! It's a highly easy-to-use router, with ergonomic rubber handles, dual LEDs for illumination, and a soft start and smooth plunge action for efficient use.
The drawback is that you'll have to shell out quite a bit for this product because Makita isn't known for its cheap price tags.