When you are creating a wooden masterpiece, you will need a box joint jig to make your task easier! But you need the best box joint jig to enjoy an optimal experience.
Your box joint jig should offer versatility, should be lightweight and durable. And it must be an easy-to-use device. Only then can you take your creation's aesthetics to a whole new level. But which products come with these features?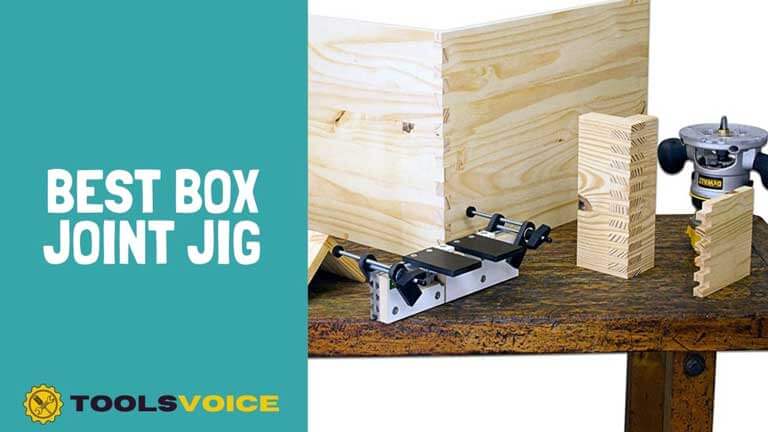 Well, we have fished out the top seven options for you here. Just take a look and get the most amazing tool to make some legendary workpieces.
Top 5 Box Joint Jig Comparison Table
7 Best Box Joint Jig Reviews
As hundreds of box joint jig brands are available on the marketplace, choosing one perfect box joint jig for you can be a daunting chore. To save you from this crisis, here we've narrowed down some of the top-rated joint jigs that are ruling the market. Without further ado, let's dive in.
1. INCRA I-BOX Jig for Box Joints
Do you know what happens when a manufacturer constructs a product, keeping only customer satisfaction in mind? The INCRA I-Box Jig happens! Our first entry has been the best-reviewed jig for quite a while now.
The package comes with a clear, well-written user manual and a step-by-step detailed instructional DVD that covers everything you need to know for making basic joints or more advanced eye-catching decorative joints. Even if you're a newbie, setting up the jig will be a breeze for you.
Another outstanding feature that attracts users to the jig is its revolutionary design. The moment you set your eyes on the jig, you'll know that it's far superior to the traditional ones.
The jig features a transparent blade guard for your safety, which makes sure that your eyes are saved from shaved wood chips. Then, the 0.25″ thick MDF sub fence is reusable, reversible, and designed to eliminate tear-out.
Also, the revolutionary design serves for added versatility. You can use it on your router table and your table saw as well. Plus, the reversible design makes it usable from both sides of the cutter.
I-Box's amazing Dual-Pitch Lead Screw mechanism is micro-adjustable, which allows you to tighten the pin width instantly and has a range from 1/8″ to 3/4″ of pin widths. With this jig, you can never go wrong with precision.
The best part, you ask? You can create some exclusive I-Box joints that will provide you with some intricate decorative designs. Instead of ending the joints with partial pins, you can turn extra heads towards your projects with Splined Box Joint.
If needed, you can also conjugate the INCRA Box Joint jig to a HingeCrafter to develop some wooden hinges.
From design to creating patterns, we can sing its praises all day long. If you want to create some gorgeous projects in the simplest, fastest, and most versatile way, this jig is THE ONE for you.
Pros
Provided user manual and instructional DVD allow easy assembly
Excellently designed for added safety, versatility, and durability
Dual-pitch lead screw mechanism allows to micro-adjust joint widths
A wide variety of joints can be created effortlessly
Cons
Belongs to the slightly expensive league
Check Price on Amazon
2. Rockler Box Joint Jig for Router Table
So, you went through the previous review, but it's a bit extra for you? Do you want something simple that meets your once in a while needs? Then, meet the Router Table Box Joint Jig by Rockler Wood.
As the name suggests, this jig is specialized for mounting on router tables only. The set-up is easy with the provided user manual and all the necessary hardware.
If your router table has a regular 0.75″ miter slot, you can make some beautifully designed tight-fitting boxes in no time. With its 10.6-pound weight, this tool is pretty lightweight and easy to work with.
While you can only cut one-sized box joints with a regular jig, the Rockler Wood jig provides you with three interchangeable solid brass index keys.
You can create 1/4″, 3/8″, and 1/2″ spacing for making many different sized air-tight joints. It is also accessorized with a low-friction MDF platform for easy cleaning, sliding, and increased durability.
Talking about sliding, the jig ships with a sled built of glass-filled nylon and glides smoothly on the jig base. While cutting pins and slots, the sled provides ample support for your wood piece and features tabs that stop the sled at the cut end.
For further support, you can also attach a sacrificial fence. With all the extra support, cutting new joints becomes smoother and quicker for you.
One unique feature of this jig is its soft-grip knobs. These knobs are ergonomically designed and well-positioned. They are used to securely lock the MDF platform with your router table's miter slot so that you can get clean and equal-sized cuts every single time.
Overall, if you want to create some precise, air-tight, and uniform joints with your router table, this one will be a fantastic tool for you.
Pros
Lightweight construction makes it easy to use
Provided with three solid brass index keys for creating various sized box joints
Jig ships glide smoothly, thanks to the glass-filled nylon construction
Features easy-grip knobs that secure the platform onto the miter slot
Cons
Can't be used on a table saw
Check Price on Amazon
3. Woodhaven Box Joint Jig
If you're a professional woodworker looking for a lightweight and portable jig, we have good news. The 4555 model Box Joint Jig by Woodhaven is the lightest one of this lineup.
With its 5.64 pounds of weight, this jig is one of the most portable ones on the marketplace. But this is also one of the best as per its quality. The jig can make some precise box joints in both smaller and larger-sized wood pieces.
Moreover, the package includes detailed instructions, so you won't have any trouble with the assembly.
A quality that makes this jig a woodworker's best friend is its versatility. You can mount the jig on any table saw or router table as the tool attaches itself to any miter gauge.
Most impressive of all, you can create any box joints as the jig is adjustable between a whopping range of 1/8″ to 13/16″ width. You can also cut the parts up to 1.6″ deep.
The featured fences are one of the most remarkable facts of this product. Its ultra-track main fence is made of aluminum and has a bit/blade cut out. A pair of replaceable 0.75" thick MDF-made sub-fences serves as sacrificial facings that prevent tear-out.
On top of everything, the adjustable pin prevents wobbling while in action so that you can create pins and sockets with the highest accuracy.
Pros
As the jig is lightweight, it's easily portable
Highly versatile, can be attached to any miter gauge
Allows you to make a wide range of joint
Features a main fence and sub-fences for extra support while working
Cons
Necessary pieces of equipment, like miter gauge and shank router, are not provided
Check Price on Amazon
4. PORTER-CABLE 4216 Box Joint Router Jig (Dovetail Jig)
When it comes to making quality tools, PORTER-CABLE is the one brand that never fails to impress. So, our fourth pick is the 4216 model Dovetail Jig by PORTER-CABLE.
First and foremost, we have to talk about the best part of this jig, its templates. The package includes three different types of templates for making regular half-blinds, box joints, and through-dovetails. And guess what? You get templates for creating smaller versions of these three joints! How amazing is that?
The jig also features template alignment lines for packed joints and depth gauges for a quicker set-up. With this depth gauge, you can set the bit depths correctly without wasting any time taking measurements. The jig can also accommodate stocks ranging from 0.25″ to 1.25″ in thickness.
Another key selling point of this jig is its durability. As the building materials are steel and aluminum, the jig is sturdy and suitable for years of use. The jig features heavy-duty cam-lock clamps and locking bars that are sandpaper-backed. Together, these two keep your workpiece fixed in its place.
If you want to do some complex woodworking, furniture making, and create intricate box joints, this jig can be your ideal choice.
Pros
Three different templates are provided for creating eight different box joints
Steel and aluminum body makes the jig durable, sturdy, and long-lasting
Comes with plenty of templates to make your job effortless
Heavy-duty clamps and locking bars keep the workpiece steady
Cons
Check Price on Amazon
5. Woodhaven 4556 Portable Box Joint Jig
Loved the Woodhaven box joint jig? Here's another one that made our list. The 4556 model Portable Box Joint Jig by Woodhaven will blow your mind with its improved features.
Let's talk about the construction first. The 12″ aluminum fence serves as a backbone, and the MDF sub-fences are replaceable and help to curb tearing out. The jig also features a pair of built-in clamps to hold the workpiece vertically. To make precise cuts, you have to hop-scotch the jig over the clamped workpiece.
The jig's incredible clamp-on design allows it to make accurate cuts on larger workpieces. You can make joints between a half-inch to 1-19/16″ width. Plus, the stock width is unlimited! If you want to make fairly large projects like carcasses and hope chests, this jig is your ideal choice to make them safer.
Thanks to the adjustable aluminum stop-arms, fixing the exact width measurement is not a problem anymore. This aluminum stops index the jig to start the joint cuts and to make each cut accurate. Besides, they also prevent the jig from any side-to-side movements.
Just like the previous Woodhaven jig, this one is also lightweight, weighing only 5 pounds. It is also compatible with both the table saw and router table. Plus, the assembly is manageable even for new users as the user manual is very comprehensive.
All in all, this is one of the most suited jigs for making broader box joints and serving larger pieces of wood.
Pros
The clamp-on design makes the jig compatible with large workpieces
This model is safer as the jig has to be hop-scotched over the workpiece
Adjustable aluminum stop-arms prevent wobbling
Comes with convenient stock width for ease of use
Cons
Not a good match for smaller workpieces
Check Price on Amazon
6. LEIGH Box Joint Router Jig
Would you like to create some exclusive decorative designs that'll leave everyone in awe? Yes? The B975 model Box Joint Router Jig from LEIGH can assist you in creating some stunning designs.
With this highly versatile jig, you can create a bunch of styles and sizes of dovetails and box joints. You can cut 5 sizes of full pitch, half-pitch through dovetails, 3 joint sizes of half-blind dovetails, and 4 different box joints. You can make 0.5″ and 0.75″ box joints on pieces up to 0.9″ thick. Isn't it truly incredible?
The manufacturer has hit it out of the park with its template and fence system. The aircraft-grade aluminum-made template has several holes and slots which place the fence automatically for various dovetail and box joints. This vertical fence also has handles at both ends that ensure easy grip and better movement of the router table.
Leigh has set them apart from any other brand by inventing their brilliant "eBush" template guide. You can install it in your regular 1.3/8″ dia. router plate opening.
The guide has numeric markings so that you can adjust the tightness of a joint precisely. Just by rotating it left or right, joints can be tuned in 0.001-inch increments!
Impressed already? Here's another handy detail. The package includes an easy-to-follow user manual and a DVD containing every instruction you need to know to make all the different joints. The jig also has plastic instruction strips that simplify the task further.
Altogether, this jig is one cost-effective way to create various sizes and shapes of classy box joints.
Pros
Comes with aircraft-grade aluminum template
Template and fence design allow automatic placement of the fence
Features "eBush" template guide for precise joint tightening
A user manual, DVD, and plastic strips are provided for user instructions
Cons
Setting up the jig is complicated
7. VIGAN DIY Tool Box Joint Jig Kit
We saved for you one simple tool for our last pick that will give your box joints a professional finish without trying too hard. Have a look at the DIY Tool Miter Gauge and Box Joint Kit by VIGAN.
Thanks to the amazing build quality, this miter gauge is sturdy, solid, and durable. The building material is aluminum which is lightweight and long-lasting. While most gauges have a melamine sled backer, this one has a good quality phenolic backer. These little touches enable the tool to serve for years.
One striking feature of the miter gauge is its oversized clutch. You can adjust the clutch in your preferred angles so that your cuts are made with precision. As it is a 120-degree scale, you can make precise cuts in 60 different degrees! The miter gauge also features a unique adjustable flip stop to index the cut.
Do you know what's cumbersome about box joint jigs? Well, it is assembling all the smaller and larger parts perfectly to get the work started. This can be intimidating for new users.
On the other hand, this DIY miter gauge and box joint jig kit is really easy to set up and use. Just follow the provided manual, and your tool will be good to go in minutes!
You can use the jig both on router tables and table saw that has standard slots. To fit the miter gauge, the miter bar's dimension has to be 3/8″ by 3/4″.
The miter gauge fence has a built-in finger joint apparatus that can be used to cut finger joints of one size only. Also, the box joint kit comes with the necessary equipment to make some good-sized joints.
Pros
As the miter gauge is aluminum-made, it is sturdy and durable
The featured 120-degree scale serves for making precise cuts
Easy to assemble with the help of provided user manual
Compatible with any router table and table saw
Cons
Only limited-sized joints can be created
Box Joint Jig Buying Guide
Before buying any product, you have to know what features you must consider for the best outcome. So, the question of the moment is, how to choose the perfect box joint jig for you?
Don't worry, we've answered the question for you. Below we've rounded up 6 essential points that you should consider before buying a box joint jig. Have a look at the list for making the best purchase.
Capacity
What makes a box joint jig good and versatile is its capacity. From time to time, you might have to work with smaller or larger wood pieces. The jig you will buy should be capable of functioning with a wide variety of material thicknesses.
Check out the specifications of the jig to know up to what range of material thicknesses the jig can handle.
Another important factor is the jig's capacity to fit into miter bars. Some top-graded jigs are capable of fitting into any miter bar of any router table. Others will work fine with the standard 3/4-inch miter bars. Make sure that the jig can fit into the dimension of your router table's miter slot.
Construction Design
The functionality of a box joint jig depends on its construction design. So, you have to inspect all the important aspects of the jig's construction to get the best results.
First off, the jig should be made of a solid material. Usually, steel and aluminum are used in premium quality jigs. These two materials are strong, sturdy, and extremely durable. If you want to use your jig to serve you for years without causing any problem, choose one that is made of steel or aluminum.
The overall design of the jig should serve to increase its functionality. The jig should be able to cut accurate sizes of pins and sockets every single time you use them. Clamps, adjustable pins, sub-fences are a few things that help a jig to achieve precision. So, look for these handy features before buying.
Accessories
Usually, we'd say the more, the better. But in this case, the necessity of accessories is subjective. If you're a professional woodworker, you'll need a wide range of accessories to work with. And if you're not, they are optional for you.
A box joint jig alone isn't typically enough for making some stunning designs. That's why the better class jigs come with several aluminum templates. You can cut a bunch of various styles and designs with these templates.
If you want various styles of dovetails and box joints, buy one jig that comes with templates. Along with the templates, there are some other accessories you should look for. For example, router bits, shank router, miter gauge, etc., can be helpful to get your job done in faster and better ways.
While accessories are important, they can drastically increase the price of the product. So, decide on the ones that you really need and make your purchase accordingly.
Ease of Use
Well, you want to buy a box joint jig in the first place so that you can easily make some precise good looking box joints. But if you end up buying a jig that's complex in its design and takes hours to set up and operate, it doesn't help in any way. That's exactly why you need a jig that is easy to operate.
First of all, you have to buy a jig that comes with clear instructions about how to set the jig up and operate it. Following the instructions properly is a must for you.
Then, you have to look at some convenient features. An incremental sled that slides smoothly over the table surface is one excellent feature that you should look for.
Indexing keys with a precision mechanism is another feature that elevates the quality of a jig.
Price
There are many box joint jigs available on the marketplace with a wide range of prices. You should opt for the one that is affordable and able to satisfy your woodworking needs.
Here, maintaining the price-quality ratio is essential. Sometimes we end up buying the worst products just to save some bucks. It is important to understand that good quality products come with a price.
For instance, the Incra Box joint jigs are one of the most high-quality products, and those are costly. Yet, these units are user-favorite jigs.
In short, a premium tool is worth spending your money on. Whether you buy expensive ones or cost-effective ones, make sure the jigs can create pins and sockets with utmost accuracy.
Brand
Buying your jig from a reputable brand can benefit you in many ways. Well-known brands are more committed to their customers. You can expect the best customer service from them. Plus, they provide better and detailed descriptions of their products so that you can make your purchase conveniently.
The best thing about a well-known brand is its customer reviews. You can go through the opinions of thousands of users and decide for yourself whether you're buying the product or not. That way, famous brands are more reliable for your purchase.
Final Words
Finally, we are done discussing the best box joint jig with you. As we have reviewed these products after extensive research, you will find nothing but the truth here. Hence, making the perfect decision will be easier for you.
For an overall experience, you can go for the INCRA I-BOX Jig For Box Joints. It offers you versatility, has a sturdy construction, and is easy to use. What else do you need?
Furthermore, if you want a super lightweight and portable tool, the Woodhaven 4555 Box Joint Jig is the one for you. And it is affordable too, which makes it sweeter than it already is.