Have you ever thought of changing your home decoration by yourself? We bet this year, spending so much time at home and working from home, the idea of some moderation in the living room has come to your mind.
And why not? Watching all the 10 minutes DIY videos, you have to say it is intriguing. However, you will need a variety of tools for that, and a jigsaw is a must to have.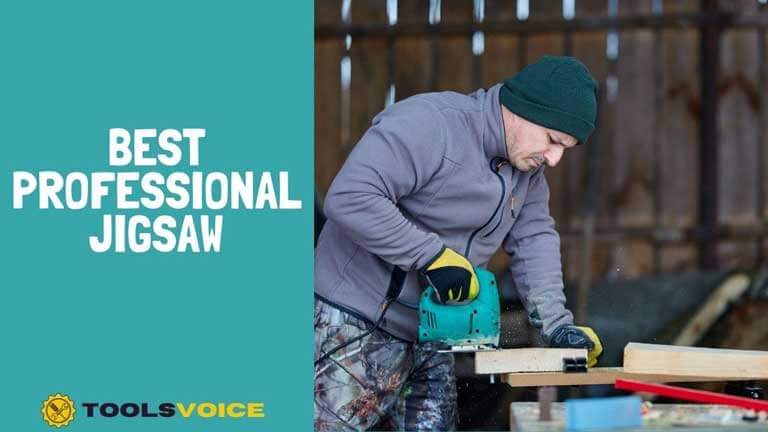 While jigsaws come at various prices with different sets of features and functionalities, the best professional jigsaw is the most versatile and allows you to make decorative and unique cuts. We have listed out some of the best products after thorough research; let's have a look at them.
Top 5 Jigsaws Comparison Table
7 Best Professional Jigsaw Reviews
Before choosing the right jigsaw for you, spare a few minutes, and learn about some of the highest quality products currently on the market.  
1. Bosch Barrel-Grip Jigsaw (JS572EBK)
Working effectively with softwood, mild-steel, and aluminum, the powerhouse tool from the boss brand Bosch is our top professional jigsaw choice. With unique comfort and precision features, the Bosch power tools JS572EBK is the safest tool for light and heavy-duty cutting jobs.
Weighing only 4.9 pounds, the corded electric jigsaw works with 120V and has a 7.2 amp motor. The powerful motor enables it to cut up to 5.5 inches of softwood, 0.875 inches of aluminum, and 0.375 inches of mild steel. It cuts PVC effortlessly too.
Not to mention the motor operates with variable speed, from 800 SPM to 3,000 SPM. And the constant response circuitry feature ensures uniform speed under consistent load.
If you are worried about the vibration of the power tool will cause or whether it will be a struggle to hold during operation, rest assured, the machine features a counterbalancing mechanism and an upfront soft-grip with the smallest diameter in the category to reduce the vibration and offers better control and comfort. 
And did we mention the first-class precision it provides? No? Oops, our bad! With a double-roller system, it offers minimum blade deflection while working. Also, you don't require any tools to adjust the bevel as the product comes with a wide aluminum footplate.
The thing we love most about the tool is that it provides excellent visibility. Not just with the bowler who keeps the cutting line clear, but it has LED lighting. So, you can seldom be cutting in the wrong direction.
Speaking of direction, it has a multidirectional blade clamp too. And changing the blades is easy with a one-touch switch only. So, you will never have to touch the hot blade!
Pros
Best precision with double-roller system 
Best comfort with upfront soft grip and smallest barrel-grip diameter
7.2-amp motor operates at variable speeds
LED lighting for fantastic visibility
Easy bevel adjustment without any tools
One-touch blade changing without touching
Cons
Doesn't support U-shank blades
Check Price on Amazon
2. DEWALT DCS334B Jigsaw
Moving on, our second pick is the DEWALT DCS334B with a brushless motor to provide longer runtime than the previous DCS3341B model.
The product is one of the most versatile tools on the list. With features like metal shoe bevels having detents at four different angles and a four-position orbital action tool, you can cut almost anything; at any angle.
The compact machine is a cordless one, with a voltage of 20 volts and greater runtime and power than most cordless and battery-powered jigsaws. You will also find a speed dial at the tip of the handle to work at any speed range up to 3200 SPM. 
Also, handling the machine is quite easy as it weighs only 4.2 pounds and has an all-metal blade change with a keyless lever-action clamp to change the T-shank blades effortlessly without touching.
In addition to all these, it gives you maximum convenience removing all the debris with a dust bowler to give you a clear cutting line. Last but not least, it has LED lighting to offer more visibility as you cut.
Pros
Efficient motor with greater runtime
Cordless offers greater maneuverability
LED lighting to illuminate darker surfaces
Metal keyless shoe bevel has four different angle detents to cut at multiple angles
Variable speed control dial to change speed as per need
Easy blade change with keyless lever-action clamp
Cons
Higher kit price
Doesn't have any lock-on button
Check Price on Amazon
3. WORX WX550L Axis Convertible Jigsaw
This fantastic product from WORX comes with a jigsaw and a reciprocating saw to switch from one to another as per your need. And the WORX WX550L 2-in-1 jigsaw cuts almost anything and everything, be it soft or hardwood, fiberglass, plastic, PVC, tile, or ceramic!
The product package includes four blades; metal, aluminum, wood jigsaws, and a reciprocating wood-cutting blade. And you can work in both traditional one-dimensional back and forth motion or orbital motion.
And it works with almost any standard blades you can find at your nearest hardware store! Don't bother about changing the blades; it features tool-less blade change to change the blades with one push and hold switch only.
Furthermore, the reciprocating saw working at 3000 RPM and with a blade stroke length of ¾ inches easily gives you the freedom of cutting complicated and tighter sections. The soft shock-absorbing grip allows you to work for long periods with the least strain on your hand.
Moreover, working on dim surfaces is no big deal with the LED lights on! And finally, the highly customizable machine comes with a battery and charger, however, it is compatible with all WORX batteries and other power products.
Pros
Customize cutting with different blades at an affordable price
Useful for both heavy-duty and light cutting operations
LED lighting for better visibility while working on dim surfaces
2-in-1 with a jigsaw and reciprocating saw to switch from one to another in seconds
Compatible with any standard blades
Cordless, lightweight, and easy to maneuver
Cons
Insufficient battery life
Safety switch is not aligned with your operating hand on various tasks
Check Price on Amazon
4. Milwaukee M18 FUEL Jigsaw (D-Handle)
Milwaukee brings you a powerhouse cordless tool, the M18 Fuel jigsaw bare tool, with high maneuverability. Weighing 5.4 pounds, it's quite heavy but has all the power pack features.
As monstrous as it looks, it is packed with features like a brushless motor with variable speeds ranging from 0 to 3500 SPM. You'll also get a simple trigger to adjust the speed. It cuts relentlessly 105 feet-linear with a single charge.
The beast also features REDLINK PLUS intelligence with system communication among all the parts. Thanks to the quick adjustable shoe bevel for a stable cutting platform, the jigsaw detents at four different angles.
And like most products, it has an on-off blower to keep your cutting line free from any debris during the operation. With the exclusive dust cover and extraction tube, you can keep your workspace always neat from now on.
Woah, that's powerful! But it doesn't end here. It also features LED lighting to offer maximum visibility on dark surfaces or while cutting complicated sections. Changing the blades is also effortless and doesn't require any tool.
Charging several times during operation is indeed a hassle. Well, the M18 fuel comes with an innovative Redlithium battery that runs longer than most cordless machines and delivers more work over the shelf life.
Pros
Operates at variable speeds up to 3500 SPM
Two-finger trigger to adjust the desired speed
Bevel adjustment and blade change doesn't require any tool
Redlithium battery lasts long
Easy to handle and control
Cons
Very bulky
Considerable vibration
Check Price on Amazon
5. DEWALT 20V MAX Jig Saw (DCS335B)
Another DEWALT product makes it to our top 7 list. Why not? DEWALT products are widely popular among home and industrial users for their brand reliability and quality performance. And the DEWALT DCS335B is no exception.
The first thing to mention about this DEWALT jigsaw is its powerful brushless motor that operates with a 20Volt battery. Most people hesitate to get a cordless cutting machine. However, DCS335B ensures longer runtime, and to your surprise, it's quite powerful.
Again, you can also cut various angles and shape or round edges with an easy-to-adjust bevel with detents at four angles. You can also work on a variety of materials, including the furnished ones, which will remain perfectly protected from any kind of scratches by the removable shoe cover.
The smartly engineered and ergonomic design makes it very easy to use. Besides, the four-position circular or orbital action increases your cutting horizons and lets you experiment on various materials. Also, the dust blower integration will keep all the dust out of your cutting way.
Changing the blades is no hassle with the all-metal keyless blade clamp with lever action. And if you are wondering about the speed control, the machine features a variable speed trigger and dial to adjust cutting speed up to 3200 SPM.
And finally, with the LED lights on you will have a clear vision of your cutting surface.
Pros
Powerful jigsaw motor
Removable shoe cover to protect surfaces from scratches
Effortless changing of blades
Works at maximum 3200 SPM
Versatile cutting tool with four-position orbital action
Cons
Check Price on Amazon
6. Festool Carvex Jigsaw (PS 420 EBQ)
The Festool 561593 Carvex jigsaw from the often-overlooked brand Festool is known for its high functionality and fast speed.
The machine, with brushless motor technology, can operate at a maximum speed of 3800 SPM; and it's fast! And not only that, it effortlessly cuts wood up to 4 ¾ inches, non-ferrous metals up to ¾ inches, and steel up to ⅜ inches.
One of the unique features of the powerhouse tool is that it comes with triple-blade guidance and splinter guards. So, what does it do? Well, it makes the perpendicular cuts easy, precise, and tear-free.
It also offers minimum blade drift while cutting with the carbide jaws and firmly supported triple blade. Plus, this electric power jigsaw tool can cut curves perfectly without having a curve control technology.
With advanced jigsaw features like a base insert platform and tool-free base, it is suitable for heavy-duty performance. You can also change the base system from circle cutting to angle cutting base.
And what about visibility? Yes, it comes with four high-intensity LEDs. So, work on dim surfaces without worrying about visibility.
To reduce dust spread out while operating, you can connect a CT dust extractor with the jigsaw.
Pros
Can operate at a maximum of 3800 SPM
Clean and tear-free perpendicular cuts with splinter guards and triple-blade guidance
Four high-intensity LED lights for improved visibility
Interchangeable blades for versatile performance
Variable speed control
Cons
Quite heavy
Little expensive than others
7. Makita Cordless Jigsaw 18V LXT (XVJ03Z)
A cordless cutting tool is always a delight to work with as it gives you the freedom of moving around and work in different positions. Yet most people avoid it thinking it wouldn't provide sufficient power and speed. The Makita XVJ03Z overcomes it, operating at a speed of 2,600 SPM. Let's look into the features of it.
Although the speed is not one of the highest, Makita compensates it with its efficient and fast cutting mechanism, along with three circular settings and an obvious straight cutting.
It works with an 18 volts lithium-ion battery that charges quickly, reducing repeated charging and increase productivity.
Moreover, the simple and ergonomic design makes it very user-friendly while providing accuracy and internal precision control in cutting. The machine also features a variable speed control trigger to work at your desired speed. 
And we love the fact that it produces the least vibration and noise. This also enables the tool to remain stable when cutting heavy metal-like materials.
Although it's quite heavy, it's easy to use, easy to move around with, and changing the blades is effortless too. You won't require any additional tool to install and remove the jigsaw blades as it features a tool-free blade changing system.
The 0° to 45° left-right bevel locks ensure bevel cuts with the most precision. And don't bother about working in various conditions, dim or light; it has a built-in LED to give you a better vision of the cutting line.
Pros
Powerful cordless cutting with a maximum speed of 2,600 SPM
Fast charging lithium-ion batteries
Less vibration and noise
Easy installation of blades
Built-in LED for better vision
Cons
Battery is not included in the package
Quite heavy in comparison to other cordless ones
More woodworking tips & guides:
Factors for Choosing the Best Professional Jigsaw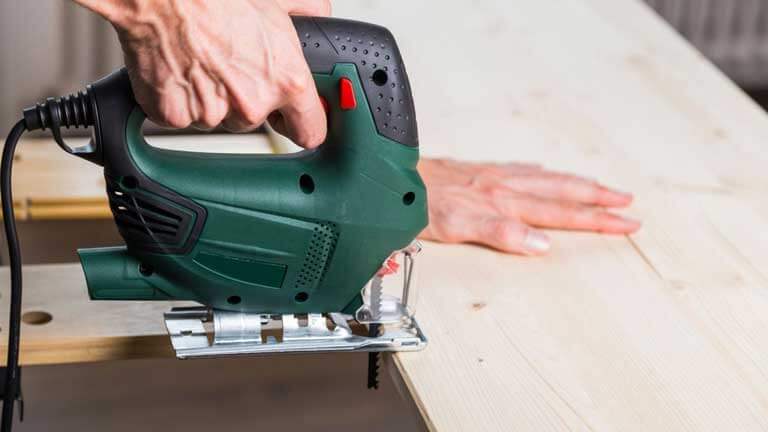 Strokes Per Minute
This feature is critical because it is a factor of speed, and it will decide if you can save time. Models of the jigsaw that have speeds that can exceed 3000 SPM are the ultimate options if the maximum stroke is your major consideration.
The maximum speed is not the only feature to consider when it comes to strokes per minute. It may not be an essential feature.
The ability to make the blades run at varying speeds can be more important than the maximum speed. If you can switch from one-speed option to another, that is a professional advantage you can work with.
Since the jigsaw is capable of making intricate cutting patterns and you work with different types of wood, having multiple speed modes to drive the blade becomes a function that is sorted after.
AMP Rating
Motors typically come with amp ratings, and to a very large extent, the jigsaw's capacity depends on the amp rating of the motor it works with.
If you are going for a model that is not too expensive, a 4-amp motor will be just decent. Such a jigsaw can serve you well in a lot of scenarios, but the scope of work is still limited. The best Jigsaws that are very powerful can have up to 7-amp motors and more.
With powerful jigsaws, you have to pay more, but it pays off if you work intensely. Before spending that extra stack, though, you need to make your assessment and decide if you actually need high-capacity jigsaws. If not, you should be fine with some decent that serves you well.
Corded Jigsaws VS Cordless Jigsaws
This is another classic debate that keeps popping in the world of workshop practices. In reality, both corded and cordless have their advantages and disadvantages. Cordless options usually have batteries to work with, avoiding the limits that come with cords.
Cords can be very limiting because of their limited length and the fact that they can make the workshop rough and challenging to work in. if you are going for a corded jigsaw, the last thing you want to do is go for one that has a short cord.
On the other hand, cordless jig saws use batteries, and the batteries can be very heavy. With such batteries, the weight of the setup makes it harder to work. Under such stress, accuracy and saving time can be a luxury.
I prefer having multiple lightweight batteries with less rating than having to deal with the pains of heavyweight stronger batteries.
Length of Stroke
What amount of distance does the blade travel when a stroke runs? This quality is known as stroke length, and you usually want bigger values for it. A jigsaw with a short stroke is limited in the work scope, especially when you consider the depth of cut and desired speed.
Longer strokes can cut through tough material faster and go as deep as needed. That being said, there is a scenario where shorter strokes are more preferable. If you want to make highly precise cuts with smoother finishes, a short stroke length will be perfect for executing that.
Straight VS Orbital Cutting
The typical jigsaw blade moves up and down, that's the regular limit to directional freedom.
There are some jigsaws that allow you to make additional forward and backward cuts, they are called orbital jigsaws, and they come with their advantages. Its main benefits over straight-cutting blades include the ability to make more intricate cuts easily and having more power to make tough cuts.
Similar to the case of stroke length, straight-cutting blades are less fancy, but they are the perfect requirements for cuts that are delicate.
U-Shank Blades VS T-Shank Blades
There is really not much argument here. The blades being used with jigsaws can be removed and replaced when necessary.
T-shank blades are easier and faster to remove when you need to make a blade replacement. That is the main disadvantage of U-Shank blades. Before purchasing your jigsaw, making sure the jigsaw can work with both types of the blade is definitely a wise thing to do.
Extra Accessories
You definitely won't mind getting them extra components. With models that offer all of the extras, your processing will be a lot easier and less demanding.
Examples of extra components that can come with your jigsaw include sawdust blowers, dust collectors, base plates adjustable for making bevel cuts, and laser guides.
Reviews and Professional Comments
Usually, technicians have trust in specific brands and manufacturers. The trust can some from actual quality over time, but not necessarily, such commit can be a mere tradition or just for avoiding the risk of newer brands.
It is a very progressive thing to check out the specifications and reviews of all the options that have the capacity you need. Check out the comments of practicing operators that have the active experience to avoid being cut in the web of just going for a popular product or an inferior one.
Frequently Asked Questions
What is the difference between a regular jigsaw and an orbital jigsaw?
The difference between an orbital jigsaw and the regular cutting jigsaw is pretty straightforward. During operation, the regular jigsaw moves the saw in upward and downward directions alone.
Orbital jigsaw puzzles have more degree of freedom for blade motion; the blades can also move forward and backward. With such a benefit from orbital jigsaws, they are more dynamic but making small precise cuts are more effective with the regular jigsaw.
2. What Is The Limit of Wood Thickness That A Jigsaw Can Cut Through?
Jigsaws have thickness limits they can cut, above which the blade starts to bend. A properly functioning jigsaw can cut from 1.5 inches (40mm) of wood to 5 inches (127mm) of wood, depending on how hard the wood is.
Can a jigsaw cut straight line Patterns?
Jigsaws are the perfect options for making curved cuts, but they can also handle straight line cuts. The process is not complicated. Use a G-Clamp to hold the workpiece properly and guide the foot of the jigsaw carefully.
While manipulating the jigsaw, try your best to make sure the appropriate speed is maintained.
The appropriate cutting speed is typically not fast to maintain order. Also, you will be doing yourself a favor by drawing out the intended line before cutting. A measuring tape and a square are enough as a guide through the whole process.
How do you cut plywood with a jigsaw without splintering?
A mild to high speed, thin blade with intact upward teeth is befitting for the job.
A splinter guide is beneficial, especially if you are non an expert. It is also beneficial to engrave your intended line with a knife before you cut. Another alternative is pasting transparent masking tapes on both sides of the intended line.
Which jigsaw blade is best for wood?
It all depends on the operation you are about to perform and the material you are working on. Consider the depth of cut and toughness of wood before choosing the blade.
Can a jigsaw cut through a 2×4?
Yes. Minimize the amount of drift and flex while cutting. Otherwise, you may have a perfect alignment on top but drift off the intended cut on the bottom surface.
Final Words
Whether you are looking forward to lots of transformation at your home or have a demanding project to work on, a jigsaw can be your best companion.
However, we don't recommend you getting the cheapest available option without prior knowledge of its features. And it can be quite difficult selecting the right one with all the jigsaw features you need.
We have done elaborate reviews to help you find the best professional jigsaw, so the heavy-duty task is done. Go ahead and check out each of the products to choose the one best fitting your preferences. And good luck purchasing the right one.